Throughout my life as a creative individual, the complete work of David Bowie (I mean pretty much everything I could dig up from childhood onward) had a huge impact on my life.
My earliest visual and musical memory of Bowie was by way of MTV. It was either the video for "Let's Dance" or "China Girl", and at age 6 I was an instant fan. Not just crushing on this handsome androgynous man in exquisite suits, but the music also got its hooks in me and wouldn't let go. After a short quiet period, by age 8 or 9 I was once again thrust into the shining dawn that is Bowie, thanks to the film Labyrinth.
The crush reached epic proportions. I just had to find more of his music, and let my Jareth fangirl flag fly.
By age 13, Bowie was competing for bedroom wall space with Adam Ant (his early incarnation, which I re-discovered thanks to his early 1990's comeback).
As I reached sweet 16, David Bowie was God, Adam Ant was Jesus, and I was a teenager who shunned 98% of the popular music the mainstream was trying to shove down my throat at the time.
Ziggy Stardust, Hunky Dory, Aladdin Sane and Kings of the Wild Frontier were my bibles, with a hefty dose of Goth thrown in.
The first song I ever played on the tape deck of my first car during my first drive alone, was Bowie's 'Queen Bitch'.
The second song, was 'Jean Genie'.
The volume was well past 11.
After learning of David Bowie's passing mere hours after it happened; well, let's just say it's difficult to describe kind of devastation I was experiencing. Still not quite used to him being gone, I'll have a fleeting notion that he's still around; that he will offer up some new album or artist collaboration, or even a tour. And then my heart drops into my stomach.
Like a long-distance family member you used to talk with often enough, that when they pass away you only remember they are gone until after you've actually picked up the phone to call them.
That is what Bowie was and is to so many of us. Through our lives sometimes he was in the front of our consciousness, other times in the background, yet always solidly *there*.
He was there to 'talk to' when you needed him.
His presence was there when we needed that epic artistic and innovative inspiration.
The thing we all need to remember, is that won't change. We can still look to him and his entire, vast body of work, and be inspired to do amazing things.
It's also fun to ponder; what inspired Bowie?
There is so much; the vastness of the universe kind of covers it. Other obvious influences include Asian art and Kabuki theater, glamour over the ages, the human ego, fluid sexuality, fashion and playing with gender roles. I can't even begin to remotely complete the list here, Bowie was an incredibly dynamic individual and the list is just too long.
But there are the muses; men and women of earth, both already famous and others not at all, that Bowie engaged with on many levels. Artistically, emotionally, physically, musically, they inspired this beautiful Starman.
Some of these fellow souls he kept near because he enjoyed their vivacious nature, intellect and bright personalities. Others inspired him to write songs and/or captured their image in his works.
One memorable muse of this nature, was
Cyrinda Foxe
. Otherwise recognized as the pin-up style blonde bombshell pictured on the Jean Genie album single, and in the music video.
It may seem somewhat odd that I would choose her as a Bowie tribute cosplay, but this would also be just one a part of a story. David Bowie was a unique force of nature all his own, to be sure. But so much of his overall thematic image was also created with the help of those artists and personalities he surrounded himself with. Naturally, Cyrinda's look caught my eye, and it's one that I immediately related to. She's this interesting mix of 1950s pin up, 1970s glam rock and early punk, all while channeling the spirit of Marilyn Monroe.
In
a book by Aurther Kane;
I, Doll: Life and Death with the New York Dolls
, Arthur describes Cyrinda Foxe as being..."bright, very magnetic," and having "an effervescence about her." And that "she was very much a character of her own creation." That was an understatement.
When David Bowie met her in 1972, "he was so bowled over by Cyrinda that he cast her in his Jean Genie video. She always said what she wanted, and she carried herself with class."
Far beyond groupie, Cyrinda was also a well known member of
The Factory
; Andy Warhol's studios and creative community in New York City. She is best known for her role in
Warhol's 1977 film,
Bad.
After growing up Kathleen Victoria Hetzekian in Santa Monica, CA to an Armenian family and graduating high school, her travels took her to Texas for a spell, then eventually New York City. She quickly landed a job as an assistant to Greta Garbo, changed her name and frequented
Max's Kansas City
. She became an actress soon after, which led to her role in
Bad.
Cyrinda suffered a mild stroke in 2001. Suddenly unable to work and nearly homeless, Myra Freidman organized a benefit at CBGB to raise money for Cyrinda's medical and living expenses. Ex husband, Steven Tyler of Aerosmith and old flame, David Bowie both donated signed guitars that were auctioned off to help out.
on August 28, 2002, she married musician Keith Waa.
A little over a week later, Cyrinda died from an inoperable brain tumor on September 7, 2002.
She was taken from this world much too early.
Below is the jacket and shoes I found on Ebay. Not an exact match, but they will do for now until I can find the right glazed nylon fabric to make the jacket up myself. The shoes will get painted gold with gold glitter-covered platform soles. I'm still on the hunt for the right leopard print fabric to make her halter top. Interestingly, the shoes she has on in the video street scenes are different than the glittery ones in the bar photo; the street shoes have a closed toe and may be a slingback.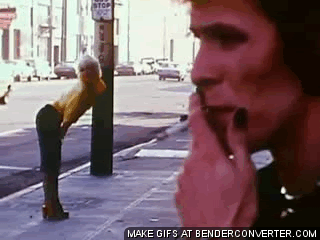 The next tribute costume I have planned for this 'story', is the white & red satin stylized kimono and cape by Kansai Yamamoto for David Bowie's 1973 Ziggy Stardust Tour. While I'd like to also do the makeup, the hair will be my own design while still reflecting a similar edge.
This is also a costume of his that had played a part in the inspiration for
one of my burlesque costumes
a few years ago.